PANAMA BIRDING BY BOAT TOUR
into panama canal coves and and chagres river affluents ...we love bird watching and you?
Our purpose is to guide and impact birders so that by the end of the day, and together, fulfill our expectations.
We are passionate about birds, ready to bird Panama with individual or groups, beginners and knowledgeable birders offering flexible dates, itineraries and into the best birding panama sites in Panama.
Do you want to go birding with us?
The Birding by Boat is a unique easy bird watching tour excursion from the comfort of a pontoon boat in Gatun Lake (Panama Canal) in search of migratory and native aquatic and low land birds including raptors, cocois, toucans, tanagers and also wildlife: monkeys, iguanas, sloths, alligators. An Exotic Birding opportunity from the comfort of a pontoon boat in central Panama canal fresh waters.. Stretch, walk, and be at ease the complete morning doing what we like best: watching birds. Tour start from Gamboa Town to Gatun Lake, Panama Canal, run in English by licensed bird guide . Round trip transport from your Panama City Center hotel included in price.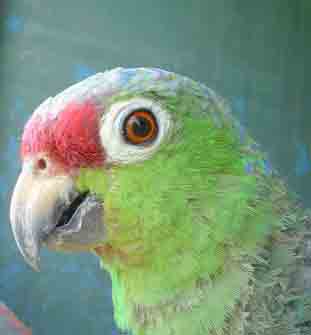 great birding, wildlife and scenery in Panama Canal water
from US$ 135 per person!
PRICE INCLUDE:
Birding from 7:15 am till noon
Transfer to and from Panama City or Gamboa
Boat, captain, life jacket
Licensed bird guide
Private Tour
Park fee, taxes, tolls
Tour minimum for two persons
and many many birds!
TOUR DIFFICULTY
■ Easy... sitting most of the time and enough space to short walks to stretch legs.
WHAT TO EXPECT
With an early start expect to see a morning 40 to 60 species.
Several reasons why you should book with us:
| | |
| --- | --- |
| - | Stretch legs any time; short walk on a comfortable pontoon boat; |
| - | Designed for Individuals or Your Family! |
| - | Bilingual local bird-guide! |
| - | Have a Big Group? We can help; |
| - | Top Notch Customer Service; |
| - | For dedicated birders, beginners and nature lovers; |
| - | Dress light and casual, sneakers or sandals is ok; |
| - | Bring camera and binoculars; |
| - | Bring camera and binoculars; |
| - | Optional inland birding on different days. |
| - | Let's go for it, book this tour now ...! |
how we go about birding....!

We are a fairly experienced, patient bird guide easy to get along with, and speaks English as a second language.
I prefer any type of bird - forest, grassland and water birds - in lowland, foothill and highlands terrain. I am the type who will stay with a flock or follow an army ant swarm until I see every bird and will never get enough going after the same species until everyone within the group is satisfied. And also enjoy wild life in general.
We are not big "check-lister", but for the record I do keep a day list of observed and heard birds and will share it with participants. And if I see a "liffer" you will noticed – there are many out there for me too.
I'm in a continuous learning process, sometimes I refer to a field book for double checking field marks, silhouette or for the correct name or call. I don't need to see every bird that I hear and don't like the overuse of playback.
I would rather simply hear a bird and not see it rather than spend a half an hour calling it in with a tape recorder unless it is an specific "target bird" and with participants consensus. We are physically fit, and can walk long hours if necessary.
On tour, depending itinerary go from 6:00 am till noon (all morning tour) follow by a lunch break and more birding during the afternoon (all day tour). And when possible, a couple hours of owling will end a good day! Participants will dictate the rhythm.
Consecutive days of birding is also available and depending on your interest we take you into Central Panama, foothills close to Panama city and into Chiriquí and Darien is also possible.

I look forward to hear from you and help plan a comfortable birding trip to Panama with all your questions answered before any commitment. Let me know your expectations, limitations, accommodation and meal preference. We are here to help and start immediately from your inquire info@panamabirdguide.com
Best regards!
Guided birding tours

Panama Birdwatching

Central Panama Canal birds
other tours available: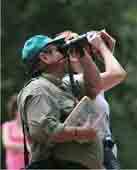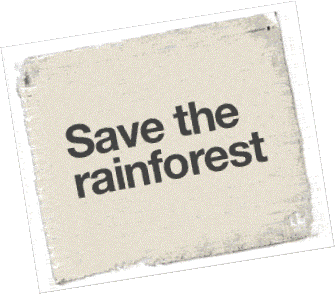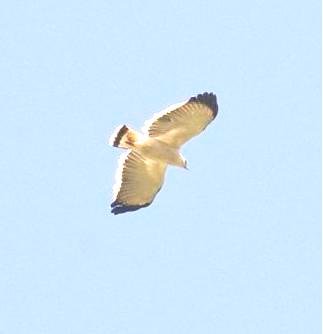 White Hawk photo by Eva Callahan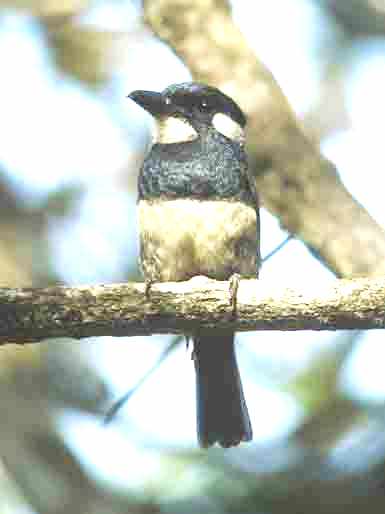 Black-breasted Puffbird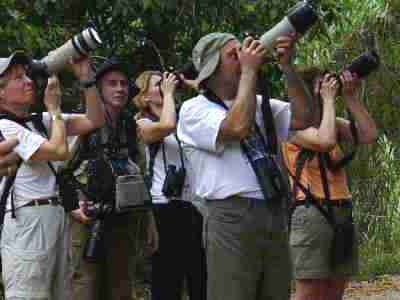 Birders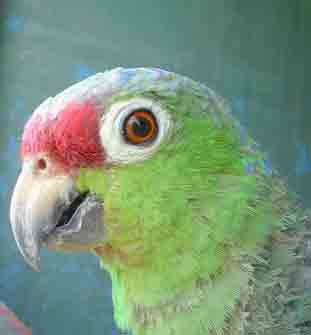 Red-lored Amazon by GHorna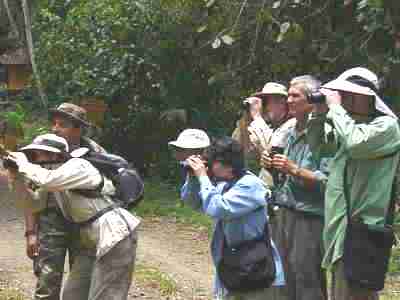 Birders